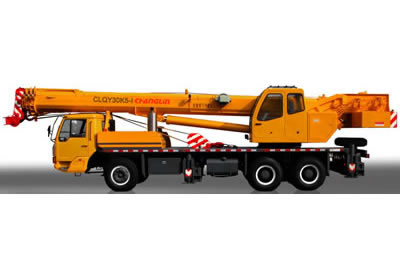 CLQY 30K5-I Truck Crane
This product has been discontinued and removed from our shelves.
1. Innovative boom system features built-in slides, flip-sheave boom head, and a telescopic boom with octagonal cross-section. Excellent lifting performance. Maximum safety and reliability.
2. Patented telescopic boom technology prevents boom breakage or warping of the boom and hydraulic cylinder.
3. Boom truck has 8 patented technologies built in it, ensuring maximum energy savings, efficiency and smooth lifting, slewing and boom reach adjusting operation.
4. Torque limiter comes with a color LCD screen for fault diagnosis, delivering industry-leading accuracy.
5. Large torque hydraulic motor ensures safety during the second lifting cycle.
6. Ergonomic diver cab provides a large space for easy and effortless operation.
7. Six patented processing technologies ensure high boom truck quality.
8. Extended boom reach, increased lifting capacity.
Technical Specification:
| | |
| --- | --- |
| Model | CLQY30K5-I |
| Length×width×height (mm) | 12570×2500×3390 |
| Operating weight (Kg) | 32400 |
| Diesel engine | WeiChai WD615.329 / ShangChai SC8DK280Q3 |
| Rated output (KW) | 213/206 |
| Max. load moment (KN.m) | 1025 |
| Max. rated lifting capacity (t) | 30 |
| Max. gradeability (%) | 35/40 |
| Max. slewing speed (r/min) | 2.5 |
| Base boom length (m) | 10.6 |
| Max. boom reach (m) | 40.4 |